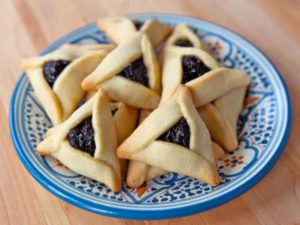 TBH Sisterhood members will be baking homemade hamantaschen at the temple on Monday, March 11th. We plan to bake enough to fill orders placed by temple families and to donate hamantaschen for everyone to enjoy at the Masquerade Ball.
Orders will be available for pick-up at the temple starting March 12th whenever the building is open. We plan to bake regular and gluten-free cookies in an assortment of different flavors.
The cost is $8.00 per dozen.
The deadline for placing orders is Friday, March 8th.
Click Here for to download the order form.