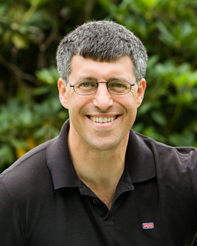 "Only to do justice, love mercy and to walk humbly with your God." 
Micah 6:8
Rabbi Jeffrey Glickman finds guidance from this passage of Bible.  He is married to Mindy and together they have seven accomplished and loving children. 
Rabbi Glickman is in his 19th year at Temple Beth Hillel in South Windsor, Connecticut, and has served in St. Joseph, Missouri and Seattle, Washington.  He has been blessed with fine congregations who share his goal of putting life first in the quest for holiness.

Many of his teachings revolve around the environment and how the opposite of fear is faith.
Some quotes he is known for:
"You can't love until you know how to listen.  That is why the V'Ahavta is always preceded by the Shema."
 "It doesn't matter where you sit, you'll be moved."
"Prayer is more powerful than we will ever know."
In addition to Masters degree (1985), Rabbinic Ordination (1987) and Doctorate (2012) from Hebrew Union College, he is a certified public school teacher, taught at several universities, serves as chaplain to the Fire and Police departments and received an MBA from UConn in 2009.  He has completed six marathons.
He traveled to Ethiopia, and continues to help educate and feed the destitute Jewish community.  Recently, he started and ran the South Windsor Haiti School.  While in Missouri, he founded and presided over The Window, a home for pregnant teens.
Recently, he has taken to inventing games.  Currently four games have been licensed to companies for production and an additional sixteen are patent pending.  They are all based on sermons.